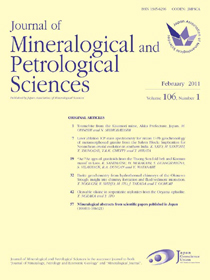 Journal of Mineralogical and


Petrological Sciences



Journal of Mineralogical and Petrological Sciences@(JMPS) has
been published since April 2000, as number 4 of volume 95.
JMPS is published by the Japanese Association of Mineralogists,
Petrologists and Economic Geologists and the Mineralogical Society
of Japan.
JMPS is the successor journal to both " Journal of Mineralogy, Petrology
and Economic Geology" and "Mineralogical Journal".



Instructions to Contributors


Index Contents